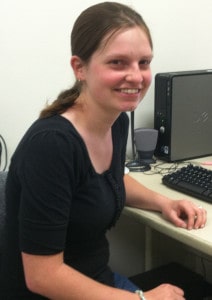 This summer, Recollection Wisconsin welcomes two UW-Madison students to our office. We're also working with the Material Culture Program at UW-Madison to connect undergraduate students with opportunities at nearby local historical societies.
Rachel Thompson (left) is working with Recollection Wisconsin to complete her practicum field project, required for all School of Library and Information Studies (SLIS) graduate students at UW-Madison. Rachel just completed her first year at SLIS and is interested in archives, cultural heritage collections and digital collections. This summer, she'll be cleaning up and standardizing metadata in our collections and will help us develop a social media strategy.
Ally Hrkac comes to us as a recent graduate from the School of Education at UW-Madison, where she studied Secondary Education-English along with a second major in English and a certificate in European Studies. Ally will work with Recollection Wisconsin to research and write "Stories from Wisconsin Collections" features for our website. She'll also explore ways to link our resources to the Common Core Standards and investigate how we can provide more support to K-12 teachers and students.
Ally's position is part of a Summer Service Learning effort that Recollection Wisconsin coordinates in partnership with the Material Culture Program at UW-Madison. The goal of this effort is twofold: to provide hands-on opportunities for undergrads considering careers in the museum/cultural heritage field, and to provide support to small, local, volunteer-run cultural heritage organizations. It's truly the Wisconsin Idea in action–the students gain real-world work experience and put the skills they've learned in the classroom to practical use, and the host organizations receive help with projects they may not otherwise have the time, staff, or other resources to complete. Thanks to grant funding provided by the Caxambas Foundation, the Material Culture Program is able to provide honoraria to the students, who are then able to commit to their projects without sacrificing summer income.
In addition to working directly with Ally, Recollection Wisconsin has placed four Student Service Learners with local hosts this summer:
Laura Sevelis will work with the Oregon Area Historical Society to inventory and re-house their costume collection.
Mara Champagne will partner with the Koshkonong Prairie Historical Society (Cambridge) to help plan an inventory project and write interpretive texts for exhibitions.
Hadley Nelson will collaborate with Hawks Inn (Delafield) to photograph and catalog collections and to research and write a guided tour for volunteer docents.
Gianofer Fields will expand on her series of audio object studies, It's A Material World, by teaming up with local historical societies to help them create their own audio recordings to tell the stories of objects in their collections.
Stay tuned throughout the summer as each student reports from the field!