This spring we surveyed libraries, historical societies and museums in small Wisconsin communities (defined as population under 6,000) to find out how we can help them build and grow digital collections of historical materials. Many thanks to all 140 organizations that took the time to respond to our survey! Read on for a summary of the survey results.
Responses: who and where?
Responses came in from all across the state. We used a free tool called BatchGeo to plot the represented communities on a map.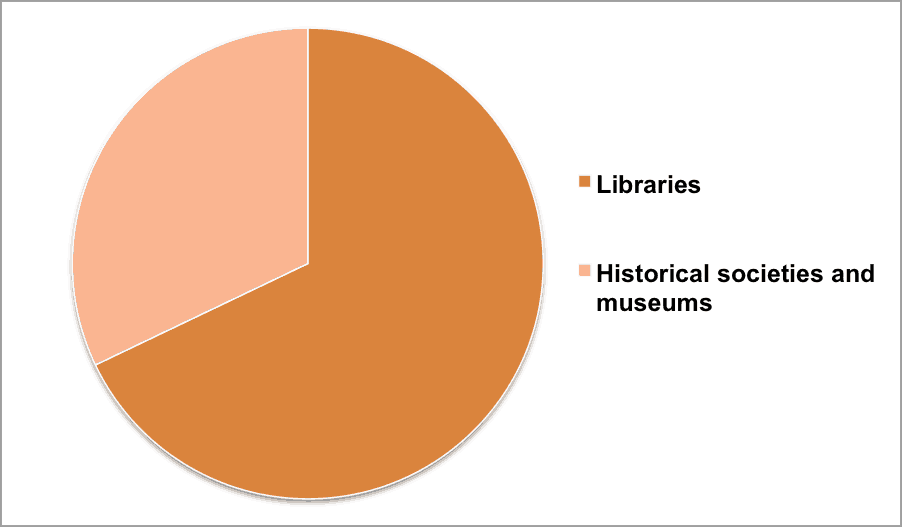 Of the 140 organizations that responded to the survey, 68% were libraries and 32% were historical societies or museums.
---
Who's digital, who's not?
58% of respondents have already digitized materials, but 40% of that group has not made any of those materials online. This suggests that there's a significant amount of digital content already out there but not yet widely accessible. 
82% of those who are already online are interested in sharing more.
85% of those who aren't currently online are interested in getting content online.
---
Why go digital?
Why share content online? The most common reason given was a variation on improved access. Comments included:
The easier it is for our community to access, the more people will get to know their history.
An online presence extends our limited hours of operation and hopefully creates interest in our local history.
Sharing such materials opens up a broader historical perspective on smaller Wisconsin communities.
It is important to community members, genealogical research, remote access, potentially identifying people and places in old photos, recording our history and culture
Having materials available online assists those who are doing research, but cannot travel to our location. It also helps us by enlarging access to the pool of people who may be able to identify people or locations in our photographs.
We sometimes get requests for historical information over the Internet. Having those materials already digitized would be a big time saver.
It's a great way to share the collection that we've worked so hard to preserve and it makes connections between people and the past.
---
What do you want to share?
We asked: What specific materials or collections from your organization would you MOST like to see made available online?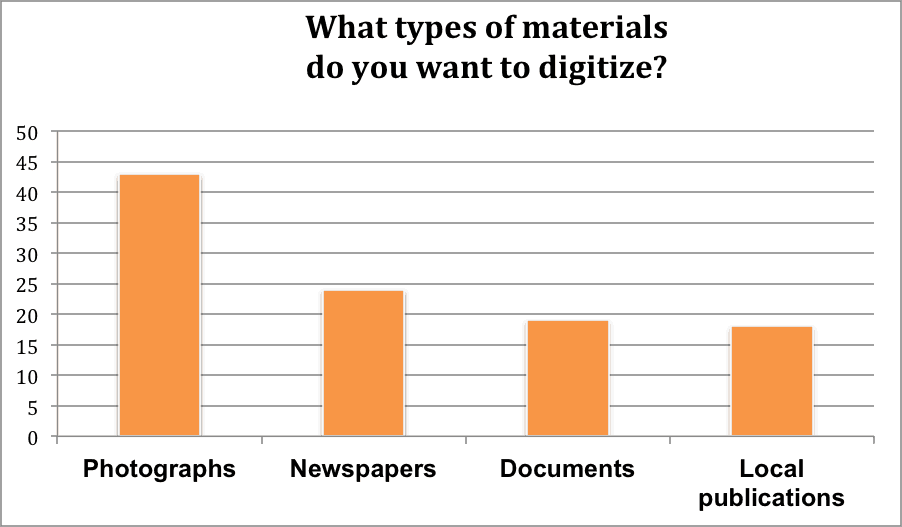 Photographs were far and away the most popular type of content that organizations want to share online, while newspapers came in second. Other popular answers were local publications such as family histories, community histories and city directories and documents, a wide-ranging answer that encompassed township records, Civil War registries, information on local businesses and more. Other types of materials mentioned (not included in the graph above) were yearbooks, obituaries, maps, audio and artifacts.
---
What are your obstacles to going digital, and how can we help?
We asked: What is your organization's BIGGEST obstacle to digitizing and sharing collections online?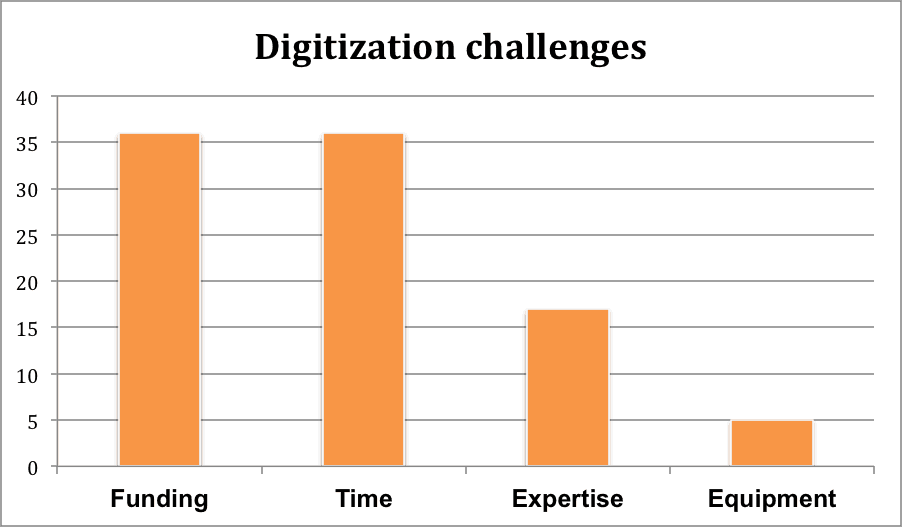 Many respondents noted that time and funding go hand in hand. Many simply said all of the above. Other notable comments:
I just don't know how to start approaching a project like this without someone else managing it.
Equipment – another computer is needed to expand our efforts, as well as someone with the time. Funding to pay such a person would then be needed.
We have good support from our historical society board and members as well as the entire community, that is not a problem. The two of us who do all of the digitization are just very short of time all the time!
With funding, someone could be paid (it would be their job) to do this scanning and loading.
We do not have expertise, equipment, or time – but with sufficient funding, all those can be overcome.
Time also equates money to hire a person to do it.
We asked: What services or support would be MOST helpful in getting your collections online?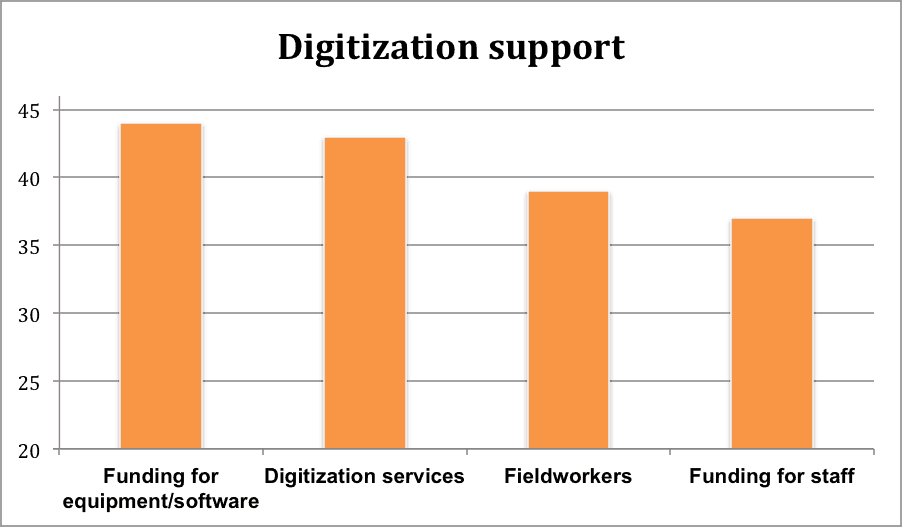 Respondents indicated that the most helpful support would be either funds or someone to do the work for them, whether it's a trained fieldworker to come in and complete a project, or an opportunity to send materials out for digitization. Classes, webinars and other training opportunities were less popular, but did garner some interest.
---
What's next?
Building on your input, Recollection Wisconsin will develop plans for new initiatives that support the needs and interests of collecting organizations in small communities. Armed with the data from this survey, we'll pursue grant funding from several sources within and outside of the state. Stay tuned!