Last week I spent two days in the far north for training visits with the Ashland Historical Society Museum and the Demmer Memorial Library in Three Lakes. I was excited to see several inches of snow on the ground, since we haven't yet had any snowfall in Madison this season.
My first stop was the Ashland Historical Society Museum on Main Street in Ashland, where I met with curator Amy Tromberg and several board members. I first met Amy in 2011 at the statewide Local History and Historic Preservation Conference in Stevens Point. She was interested in partnering with us because she already had some experience working with digital collections in her home state of North Dakota, where she worked on Dakota Mosaic, a project to digitize historic photos from local collections in North Dakota.
For their first digital project, the Society is focusing on the story of the Ashland ore docks, huge wooden (and later concrete) structures built to transfer iron ore mined along the shores of Lake Superior from train cars to ships for distribution to ports around the Great Lakes. Ashland's last ore dock, constructed in 1916, is now being dismantled–a story that has caught the attention of local and national media, including a slideshow feature in the Wall Street Journal. The Society holds hundreds of photographs depicting the construction of the ore docks and their role in the local economy.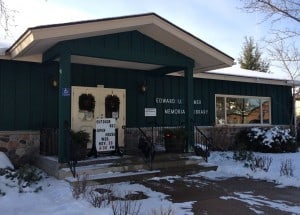 After spending an afternoon in Ashland reviewing our recommended scanning and image cataloging standards, I headed south and east to Three Lakes, a resort town just south of Eagle River. At the Demmer Memorial Library in Three Lakes, I met with library director Nancy Brewster to help her get started on a digital project. Last summer, the neighboring Three Lakes Historical Society worked with us to digitize some of their collections, and since they're closed during the winter, they've generously loaned the library their scanner. The Library's digital collection will focus on the history of their children's story hour–a long-standing local tradition that predates the existing library itself, which was built in the 1970s.
Look for both of these collections to start appearing online sometime this spring!
–Posted by Emily Pfotenhauer, Recollection Wisconsin Program Manager