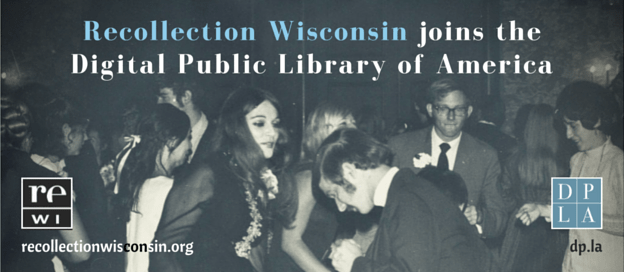 Recollection Wisconsin is celebrating today, as digital collections from our partners across the state are now available in the Digital Public Library of America!
After three years of collaborative planning and development, Wisconsin's libraries, archives, historical societies and museums are joining their peers around the country in providing free online access to their digital collections through DPLA. Nearly 400,000 records representing photographs, books, maps, artifacts and other historical and cultural resources from 186 collections are now part of DPLA. School children, genealogists and scholars will be able to find unique materials from Wisconsin and about Wisconsin through DPLA's website.
Erika Janik, historian, author and producer of Wisconsin Public Radio's Wisconsin Life, said, "It's exciting that the unique treasures of this state, many of which may have only been known locally, are joining those from across the nation as part of DPLA. It's a chance to share what's special about Wisconsin and to give Wisconsin a voice and a place in the national story."
DPLA's mission is to bring together the riches of America's libraries, archives and museums and make them freely available to the world. Since its launch just over three years ago, DPLA has assembled over 13 million digital resources from more than 1,900 institutions across the United States. Current DPLA contributors include numerous state and regional digital libraries as well as leading cultural and academic institutions such as the Smithsonian, the National Archives, Harvard University and the New York Public Library.
"The Digital Public Library of America is thrilled to have Wisconsin represented as a Service Hub in the DPLA Network," said Emily Gore, DPLA Director of Content. "The important digital content held by Wisconsin institutions together with the collections of other states, regions and significant individual institutions brings the DPLA another step closer to completing our goal of all states having an on-ramp to share their rich digital cultural heritage."
Wisconsin's partnership with DPLA is coordinated by Recollection Wisconsin, a collaborative program of WiLS, Wisconsin Historical Society, Wisconsin Department of Public Instruction, UW-Madison, UW-Milwaukee, Milwaukee Public Library and Marquette University. As a Service Hub, Recollection Wisconsin will be the pathway to DPLA for the state's cultural institutions, ensuring that even more digital collections from and about Wisconsin can be shared through this innovative national program.
To learn more about the Recollection Wisconsin Service Hub for the Digital Public Library of America, visit recollectionwisconsin.org/dpla.
Image credit: "Marquette students light up the floor at a dance party," from the 1971 Hilltop yearbook via Marquette University, Department of Special Collections & University Archives.