It's cliché, but true, I can't believe how quickly this summer flew by! Our first Curating Community Digital Collections cohort just wrapped up their summer work. Well done, folks, well done. (Cue Pomp and Circumstance.)
Let's crunch a few CCDC numbers . . .
6 host sites and 8 host site supervisors
6 graduate students from 2 Library & Information Studies graduate programs
6 mentors and 4 expert instructors/advisors
1 workshop over 3 days or 24 hours of intense digital preservation training in May 2018
3/2/1 digital storage rule! (Don't forget . . . 3 copies on 2 different storage media with 1 stored off site.)
4 NDSA levels of preservation to attain
8 external hard drives shared with teams
12 coordinator visits to host sites or approximately 2,700 miles traveled around Wisconsin
15 academic credits earned by students
18+ student-mentor discussions about digital preservation
5TB of storage space donated by UW-Madison Libraries
Hundreds of pages of documentation created – workflows, policies and best practices galore!
780 hours of student work, right on!
Heaps, oodles, and umpteen digital files inventoried, renamed, organized, checked and stored. Full disclosure, I haven't counted all of them yet but there's a bunch!
1 very splendid end-of-summer capstone event
Whew! So, how did it all turn out? I'd say quite well, based on teams' reports shared last month during our end-of-summer capstone meeting. In late August, we reconvened virtually to share stories and discuss next steps for sustaining the digital preservation work. Each team had time to speak about their challenges, solutions, and future plans, and answer questions about their work.
As part of their summer projects, our teams created various workflows, best practices and digital preservation policies. We'll share these documents on the CCDC web site later this fall for other institutions wrestling with digital preservation work.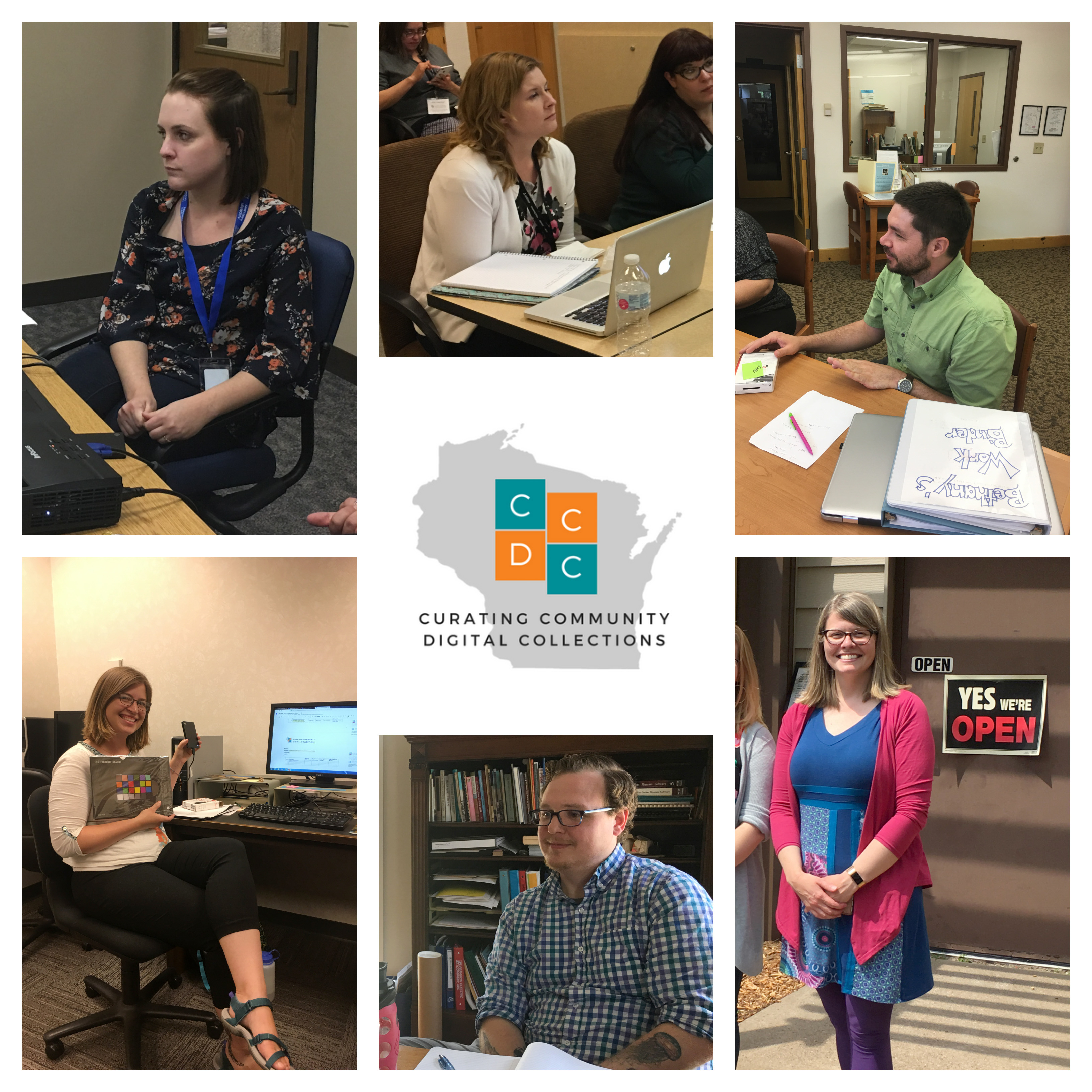 A few of our host sites are embarking on new oral history projects. They will take advantage of their new knowledge and workflows to ensure this born-digital audio and video is created and preserved following digital preservation standards and best practices. And, beyond accomplishing key tasks outlined in their project plans, many of the host sites now have new training manuals to share with their staff and volunteers engaged in digitization or digital preservation work.
So, what's next for CCDC? We'll be convening a panel of CCDC participants at the Wisconsin Library Association annual conference in La Crosse on October 25. Students, host sites and mentors will share their CCDC experiences and reflections.
And we're quickly gearing up for 2019! In the second year of our IMLS grant, we will have capacity for TEN host sites and TEN students. We're excited to share this experience with even more institutions and individuals. Are you are interested in joining next year's cohort, as either a host site institution or student participant? Information and application materials will be available on our web site later this fall. Feel free to contact me at vicki@wils.org if you have questions about the application process.
Thank you, again, to everyone who participated in CCDC 2018. We are grateful for you time, expertise and willingness to help build community around digital preservation work!
— Posted by Vicki Tobias