This is Bethany Huse with the College of Menominee Nation. I am one of the Librarians here at the College, and one of my duties is that I spend half of my days in the Special Collections. Over this summer, we've had the privilege to participate in the CCDC project and have Steve Moray, a student at UW-Milwaukee, come to campus to help us organize and inventory our digital files and create a standard file naming practice, workflow procedures and policies. At the College of Menominee Nation (CMN), we serve a varied demographic in age and interest. Originally, the library was solely the academic library for the college. Over five years ago, the library merged with the public library and CMN now is available for both students, CMN staff and faculty, and also the community of Menominee County and surrounding areas.
When the Special Collections began at CMN, digitizing materials was one of the big priorities. We are excited to be able to continue this project after this summer with a reorganized structure with clear goals and workflow. Working with Steve, we have been able to identify areas that need stronger policy development and clearer procedures for anyone working on digitizing or uploading in the future.
As a Tribal College, one of the concerns that is unique to these communities is that of access. Some of the materials in our Special Collections are sensitive or proprietary to the tribe or nation that we work under. Due to this concern, additional care is given to selection of materials that will be digitized and added to our online collection. With the help of CCDC, we have been able to look into a new tool, Mukurtu, that could be integral to creating levels of access that will allow the Special Collections to digitize and upload materials with the assurance that the levels of access necessary for this type of institution are in place.
Throughout this summer, working with the CCDC, the students, mentors, and program organizers, I have been able to expand my knowledge of digital collections and the intricacies that go into the upkeep of digital materials. This experience will be able to improve CMN's Special Collections digital practices and future digitization and preservation work.
One of the things I have learned from this experience is that it doesn't matter what size institution you are, everyone can grow and learn from asking questions and coming together to tackle a common issue. Digital preservation is a growing concern, and not everyone has all the details worked out yet. Finally, to get involved, ask others how they're preserving, tips they have found – you might just find someone with the same issue, or even a solution.
–Posted by Bethany Huse, Librarian, College of Menominee Nation S. Verna Fowler Academic Library/Menominee Public Library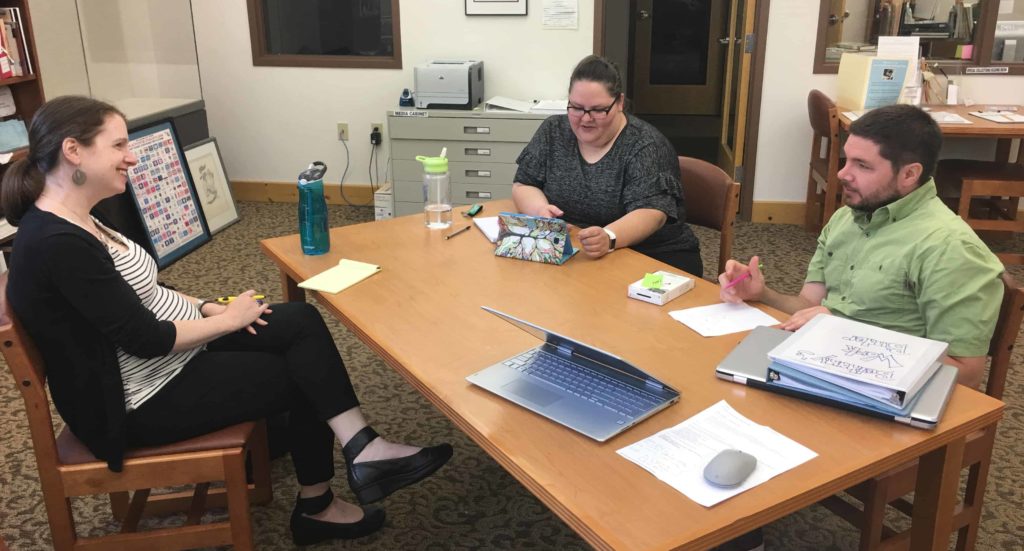 ---
Curating Community Digital Collections is supported by a grant from the Institute of Museum and Library Services, #RE-85-17-0127-17.