Guest curator Nichole Fromm is a librarian who blogs about restaurants at Eating in Madison A to Z with her husband JM. She was also the proud recipient in 1986 of a Golden Arches Good Taste Award.
---
For better or worse, McDonald's has built up a place in American hearts and minds. This exhibit uncovers some of Wisconsin's surprising connections to the fast food giant.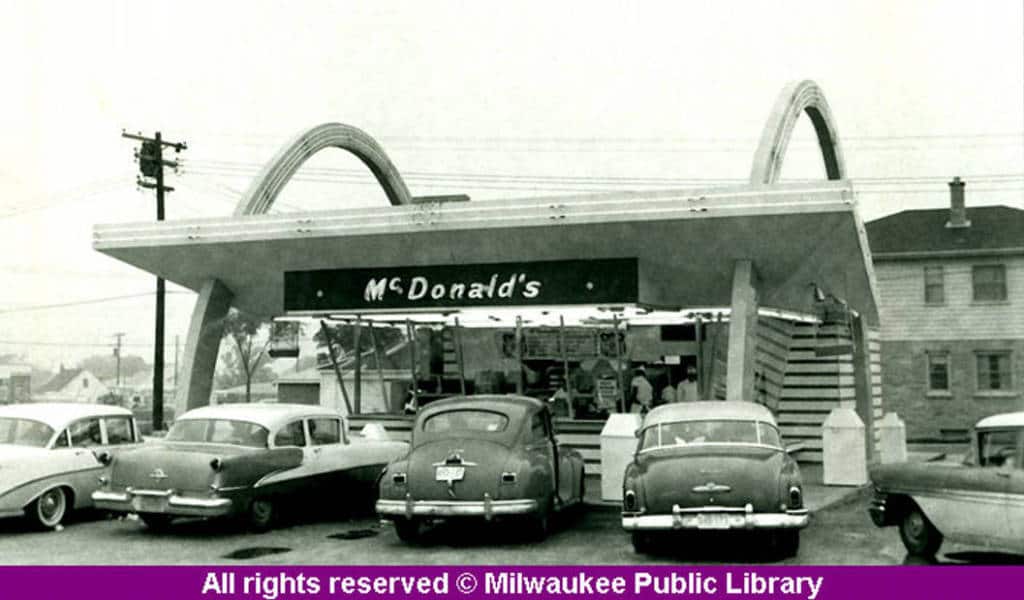 The first McDonald's in Wisconsin opened in early 1957 at 21st and Lathrop Avenue in Racine. The second opened in Milwaukee on June 29, 1957 at West Appleton Avenue and Capitol Drive. It was the first of seven franchise locations for Peter Weitzman, whose enthusiasm for the chain caught on with his family. Weitzman convinced his brother-in-law Sol Steren, and his wife Rose, to open their own in Cudahy, South Milwaukee, and Port Washington.
Dr. Edwin Traisman brought McDonald's to the capital city. His first of four stores in the Madison area opened on South Park Street in 1957. Traisman, a food scientist and the manager of dairy research for Kraft Foods, was so impressed by the popularity of the burger stand on a visit to Des Plaines, Illinois, that he left Kraft to become a franchisee. Traisman later became the senior research director for the UW Food Research Institute. He assisted in the development of Cheez Whiz, instant pudding, and the low-nitrite "Wisconsin process" for preserving bacon. Most important to McDonald's, however, was a method he co-developed for freezing Idaho potatoes at peak season to provide the rapidly growing chain with consistently high-quality French fries.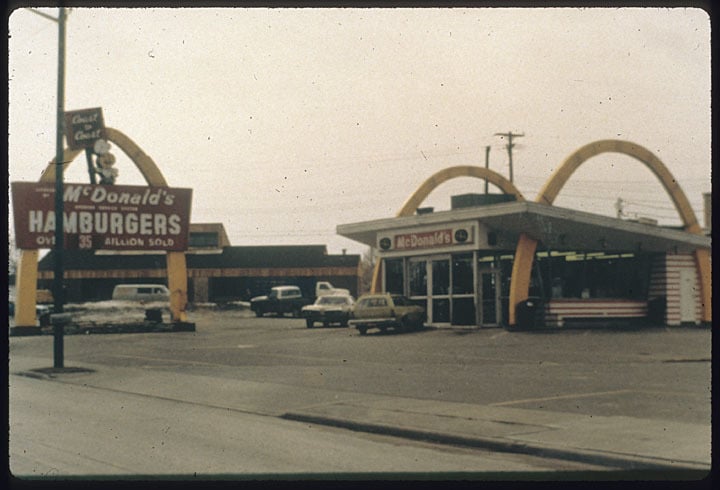 Wisconsin took to McDonald's as eagerly as the rest of the nation, and company royalty were often on hand to celebrate milestones. In 1959, Fond du Lac was the lucky site of the nation's 100th McDonald's. In 1968, Ray Kroc came to Madison to congratulate Traisman on opening the 1031st. The new location, at 441 Lake Street in the heart of the UW-Madison campus, was designed to outgross the more "suburban" locations by attracting foot traffic and a spendier lunch crowd, namely students and office workers. It was an example of the design trend in the 1960s and 1970s that favored brick and wood elements over metal and plastic, earth tones and even greenery over the bright colors and clean lines of the 1950s Speedee Service aesthetic.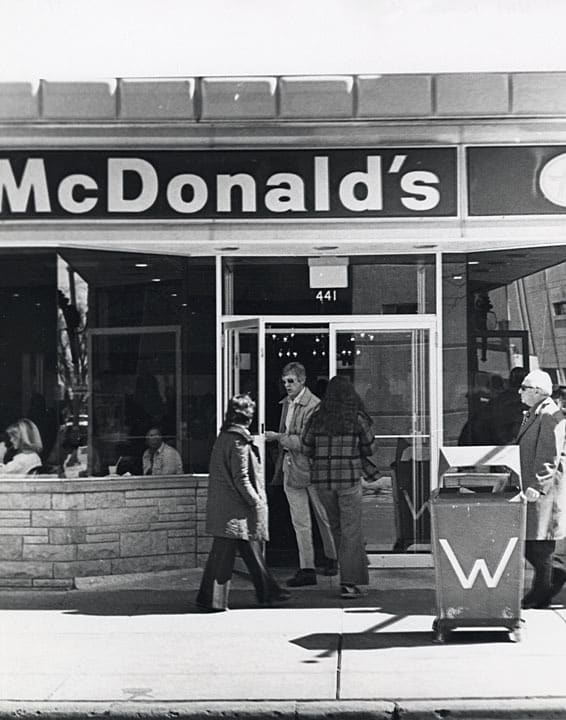 Also in 1968, Jeff Steren, the son of Rose and Sol, held a grand opening celebration for a McDonald's in Oak Creek – their family's fourth – with a visit from Ronald McDonald. Steren went on to become the first franchise operator to win the Wisconsin Restaurant Association's Restaurateur of the Year award in 1990.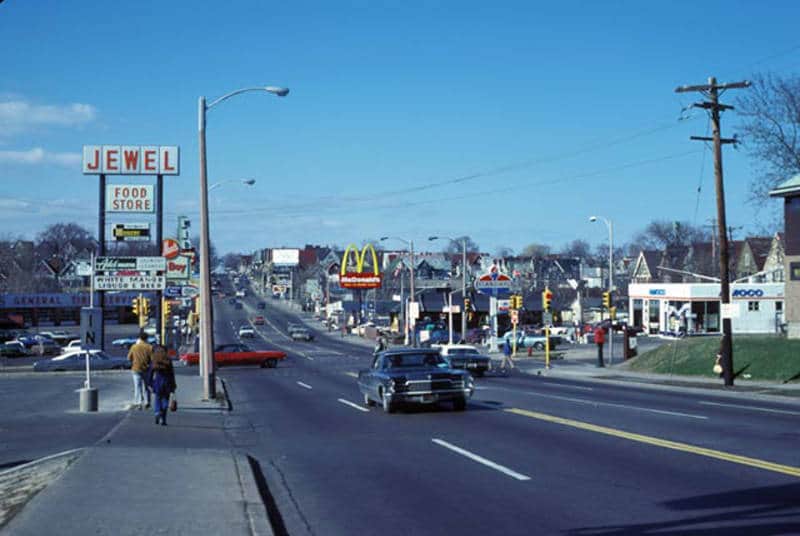 The 1970s were years of steady growth for McDonald's. In 1973, the first PlayPlace appeared. 1975 saw the first drive-through and the Happy Meal debuted in 1979. The 1980s and 1990s brought international expansion into every corner of the world. On the home front, Milwaukee Sentinel readers discovered thrifty uses for discarded McDonald's styrofoam containers, as shown in this microwave recipe for a "Hamburger Box Omelet."
With the new millennium came a shift in public opinion. One important marker was Eric Schlosser's 2001 book Fast Food Nation, which collected and presented criticisms of many aspects of McDonald's, from food quality to business practices and labor conditions. The book captured the zeitgeist; the following year, the McDonald's corporation reported the first quarterly financial loss in its history. Morgan Spurlock's 2004 documentary film Super Size Me, in which a man eats only McDonald's food for an entire month, further demonstrated changing attitudes. The trend continued with a national turn, seen in Wisconsin as well, away from fast food and towards "casual fine dining" chains such as Panera.
Nostalgia, however, had its own pull. In 2002 the Green Bay Historic Preservation Commission awarded historical status to the vintage arch sign of the McDonald's at 1587 Shawano Avenue. And McDonald's Classics stores began to appear, too. One of the first in Wisconsin was erected in 2003 at 1308 Greenway Boulevard in Middleton. Its retro design, executed by Haag Muller Inc. of Port Washington, countered the boring, sometimes dingy McDonald's look with a return to chrome, glass and neon.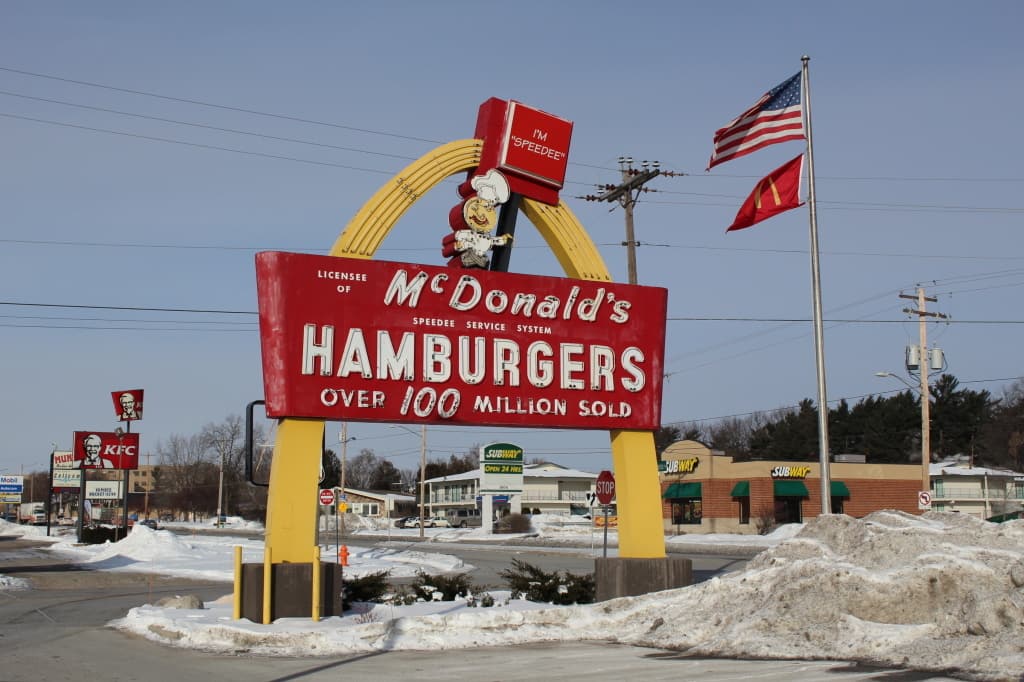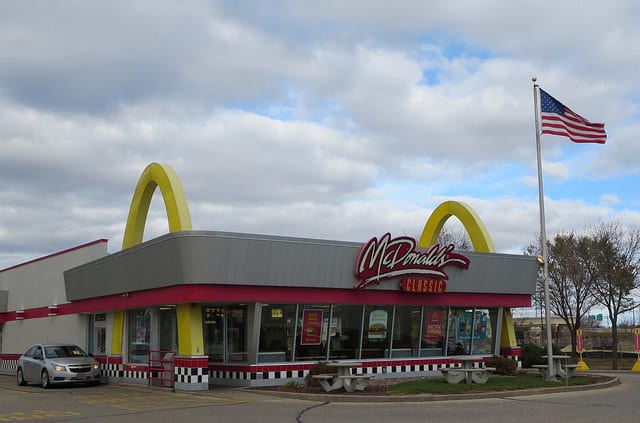 Despite electing McDonald's fries the city's best in the Madison Magazine readers poll for every year the category was listed, Madtown occasionally has found McDonald's a little hard to swallow. The once-classy Lake Street store closed in 2006 to become a post office; when a student reporter contacted the district alder for comment, it was reported that his reply was a brusque text message: "I haven't heard about McDonald's closing yet, but I won't shed any tears if it's true." Madison's second-oldest McDonalds, operating at at 3051 East Washington Avenue since 1962, saw a sharp drop in customers when the city completed a bridge across the busy highway, obscuring the arches. When its owners announced plans to build a new restaurant in the parking lot of a shopping center three blocks closer to the Capitol, they were met with protests from the neighborhood, but ultimately were allowed to proceed.
Two recent nuggets of McDonald's lore are dipped in Wisconsin flavor. The seeds for the Found Footage Festival, a traveling comedy show of obscure videos of all kinds, were planted when a McDonald's custodial training video fell into the hands of young Stoughton residents Joe Pickett and Nick Prueher. And Fond du Lac native Don Gorske made an appearance in Super Size Me for subsisting almost exclusively on Big Macs. Gorske ate his 25,000th Big Mac on May 17, 2011 and has shown no more intention of quitting than America does.
---
Sources
The images in this online exhibit come from the following digital collections:
References
McDonald's History (interactive corporate timeline)
Cech, Jim. Oak Creek: 50 Years of Progress. Charleston, SC: Arcadia, 2005.
Darlington, Tenaya. "Bye-Bye, Burger: Move Over, Grab 'N' Go Dining, a Fast-Food Revolution Is Here." Isthmus, April 25, 2003.
Franklin, Todd. "Competition Fierce in Local Chain Restaurant Market." In Business, September 1991.
Heidmann, Lynn. "McDonald's to shut its doors." Badger Herald, December 4, 2006.
Hevesi, Dennis. "Edwin Traisman, 91, Dies; Helped Create Iconic Foods." New York Times, June 9, 2007.
Roberts, Melinda. "McDonald's Speedee Sign (circa 1959)." Wisconsin Historical Markers.
Schneider, Pat. "Proposed relocation of East Wash McDonald's angers would-be neighbors." Capital Times, July 26, 2010.
Williams, Kent. "Fast-food architecture: the chains don't build 'em like they used to." Isthmus, September 26, 2003.